Continue your Education at YOUR university!
We are here to help you transition into your undergraduate study with MDX this September!
With summer just around the corner, we know you'll be starting to think about your progression into your undergraduate studies. We hope you've had an amazing time in your first year of study with us and gained all the skills you need to prepare yourself to take that next step.
As you will know, when you successfully complete the International Foundation Programme with us, you gain the qualification you need to progress to any of our UK Bachelor's degrees. As an undergraduate student at Middlesex University Dubai, you will benefit from already knowing the UK curriculum, your campus, your friends, your faculty, and what student life with us is all about!
Your benefits as a MDX Dubai Student!
A quality UK degree with us will open doors to a global career!
Benefit from world-class education led by expert, supportive faculty who prepare you for the future
Be supported to create your dream future with dedicated employability guidance
Connect with our extensive network of industry partners around the world
Study at a 5-Star rated university with the largest UK student community in Dubai
Opportunities to take internships, placements and real life project work inside and outside the classroom
What do I need to do next?
We're here to support you as you progress to Undergraduate study this September. We know that you will have questions relating to your studies and taking your education to the next level, so we have put a process in place to make sure you feel supported every step of the way!
Our Admissions Team will be sending you your offer letter for your undergraduate studies to your student email account, please keep an eye on your Inbox!
Once you receive this, you will need to:
Sign, review and return your offer letter via email to admissions or at the admissions office.
Connect with an admissions counsellor who will complete your progression application with you.
Provide any required documents that are listed on your offer, these can either be uploaded to the application portal or given to the counsellor. (Please note that you can use your existing log in details, that you used for your foundation application)
Pay your reduced deposit of just AED 1,000 to the student finance office via the payment portal here or in person at the finance office at the Dubai Knowledge Park Campus.
Check with the progression team or your admissions counsellor if anything else is required for your progression.
And you're done! We will then connect with you regarding pre-university preparation workshops and other exciting initiatives for you to take part in!
What support is available to help you?
We've got a dedicated Progression Team and process in place to help you feel supported every step of the way!
You can:
Connect with Rizwan from our dedicated team at our special progression drop in clinic via MS teams here: Click here to join the meeting or visit him in-person in Block 16, Ground Floor Admissions Office, Monday to Friday between the hours of 9am and 4pm (UAE), where you will receive one-on-one advice on your progression into UG study.
Reach out to us about setting up meetings with the faculty members from the programme you're progressing into.
Our Progression Team will be visiting your class to provide you with the advice you need, so have your questions at the ready!
Attend an in-person progression meeting on 26 March, 3pm – 6pm at the Dubai Knowledge Park Campus where we will be offering tailored advice for your next step!
CONNECT WITH YOUR DEDICATED PROGRESSION TEAM TODAY!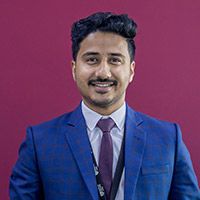 Muhammed Rizwan
Admissions Counsellor
t. +971 54 305 6639