As an enrolled student, you have your own university email address. This is in the form [email protected], where xx are your initials, and nnnn is a number generated by the system. This code will be found on the reverse of your Student ID Card.
Your Middlesex University e-mail is an e-mail address that is available to you within the duration of Study and will be the principle tool the university will use to communicate with you. Your tutors, the student support team, the Learning Resource Centre and other areas of administration will use this e-mail address to contact you so it is critical that you check your account regularly. We'll also use this account to tell you about events and activities that will help enhance your time at university.
Access your University email directly using the following link: www.outlook.com/live.mdx.ac.uk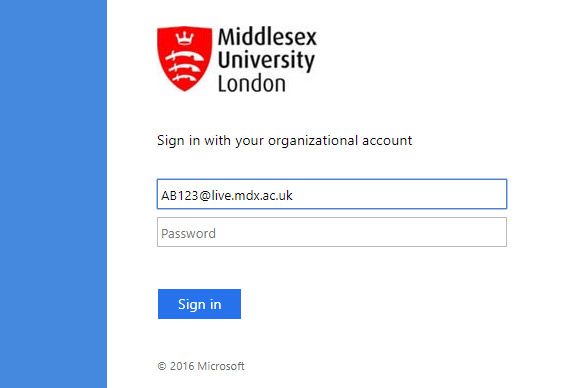 Two Factor Authentication
In order to improve your security at Middlesex University, we have introduced Two-Factor Authentication (2FA).
2FA provides an added layer of security on top of your username and password when you access university resources online. Once set up, it is easy to use and provides increased protection against cyber-attacks. With 2FA being enforced, no one can exploit your password to log in to Microsoft 365 services.
You'll be asked to set up 2FA to log in to any Microsoft 365 application. This will pop up on your screen when you try to log in, you just need to click 'More info Required' to start setting it up.
For more details on 2FA, visit https://unihub.mdx.ac.uk/study/it/two-factor-authentication
Office 365
The Student Email is provided through the University's Office 365 Education subscription, an implementation of a Microsoft programme, which provides educational institutions with hosted communications and collaboration services for students.
Office365 has the available storage space for emails (total 25GB), a maximum message size of 25MB and your personal calendar.
Office365 offers further improvements and enhanced features such as instant messaging, cloud storage, file and screen sharing and peer-to-peer video conferencing. It has better support for smartphones and tablets. Students can set up their emails on devices running on Android and iOS. For further details, please visit the 'How-to Guides' under the IT Support options under Your Study. As the e-mail (and all other University Systems) is accessed via the MyUniHub Student Portal, any students experiencing difficulties accessing their MyUniHub should reset their password via the MyUniHub Student Portal log-in page by clicking on the "forgotten password" link (located under the password field).
You can find more information about the Student's Email & One Drive Office 365 on this useful
You can find more information about the Student's Email & One Drive on this useful Office 365 Guide.