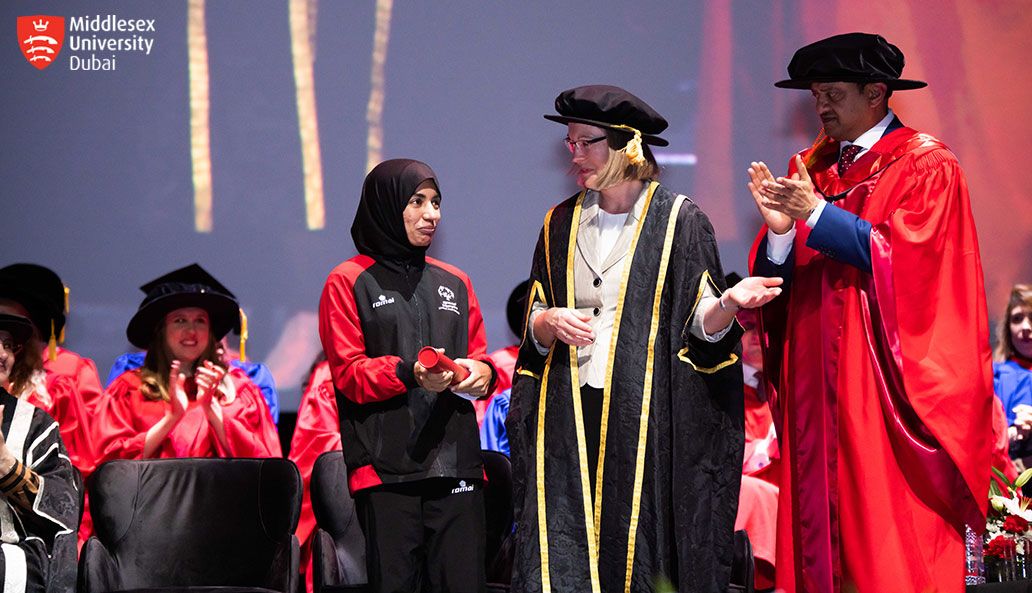 A truly memorable day as Middlesex University Dubai celebrates its 14th Annual Graduation Ceremony at the Dubai Opera
Star Emirati sprinter, Hamda Al Hosani recognised with an Honorary Doctorate
Celebrating student success and honouring a true inspiration, Middlesex University Dubai held its 14th Graduation Ceremony on Saturday 23 November 2019 at the world-class performing arts venue, Dubai Opera.
Across two ceremonies, more than 1,000 students donning their graduation cap and gown were awarded degrees across disciplines including film and media, business management, accounting and finance, computer engineering, IT, law, psychology and HR at Bachelor's and Master's level. 
"It has been great to witness the educational journey of our graduates and celebrate their hard work, determination and dedication. We feel extremely proud as we present these fine students with their degrees," said Dr Cedwyn Fernandes, Pro Vice-Chancellor and Director of Middlesex University Dubai. "I would like to take this opportunity to congratulate the class of 2019 and wish them success as they join our Alumni network and excel in their careers."
At the second ceremony, Emirati sprinter extraordinaire, Ms Hamda Al Hosani was awarded an Honorary Doctorate from the University in recognition of her outstanding performance in sport, her commitment to dispelling misconceptions of those with special needs, and the obstacles she has overcome as a sportswoman with great accolades to her name, including winning gold and silver at the Special Olympics World Games held earlier this year.
Receiving the Honorary Doctorate to a standing ovation, Hamda said, "From a young age I wanted to achieve my dream but I was concerned that my epilepsy would hold me back. Instead, thanks to my Mother and those around me, I have been able to push boundaries and I am determined to strive to be the best that I can be. I am honoured that Middlesex University Dubai have awarded me with an Honorary Doctorate for what I have achieved."
HM Consul General to Dubai and the Northern Emirates, Mr Andrew Jackson from the British Embassy Dubai was the Guest of Honour at the first ceremony where he addressed  the graduates and applauded the young professionals on their accomplishment and wished them the very best as they embark on the new chapter of their life.
Graduates will now join Middlesex University Dubai's Alumni Association and become an integral part of the University's future as they share their experience with students that will follow and continue to build their portfolio through events, networking and volunteering opportunities.