Middlesex was established as a University in 1992. It is now widely regarded as an excellent international provider of higher education with an outstanding academic credential and highly employable and successful graduates.
The history of Middlesex University began in the late 1880's, when two educational institutions opened their doors in north London – St Katherine's College and the Hornsey School of Arts and Crafts. Both would become part of Middlesex Polytechnic, which was founded in 1973. Middlesex was awarded the title 'University' – by Royal Assent – in 1992.
Key dates in Middlesex history:
1878 – St Katherine's College opens in Tottenham and has been operating for more than a century
1882 – Hornsey School of Arts and Crafts founded
1901 – Ponders End Technical Institute (still the home of the University's Social Sciences programmes) begins
1939 – Hendon Technical Institute opens in the Burroughs, Hendon. The University's most popular campus – much rejuvenated – continues to operate here
1947 – Trent Park College of Education opens to train necessary teachers in the post-war period.Teachers are still trained on the Trent Park Campus
1962 – New College of Speech and Drama opens
2005 – Middlesex University opens its first overseas campus in Dubai, U.A.E.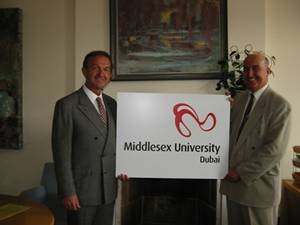 Misho Ravic, Co-Chairman of the Joint Board of Directors and Managing Director, Middlesex Associates and Dr. Terry Butland, Deputy Vice-Chancellor of Middlesex University and Director of Middlesex International after establishing the University Campus in Dubai 2005        
2010 – Doctor of the University – Mr. Misho Ravic        
Middlesex University London confers an Honorary Doctorate on the founder of Middlesex University Dubai and Co-Chairman of Middlesex University Dubai's Board, Mr. Misho Ravic. Doctor of the University is the University's highest honor.

2010 – Middlesex open its overseas campus in Mauritius
2013 – Middlesex opens its overseas campus in Malta
2015 – Dr Cedwyn Fernandes becomes Director of Middlesex University Dubai
2018 – Dr Cedwyn Fernandes is promoted to Pro-Vice Chancellor of Middlesex University
2020 – Middlesex University Dubai receives 5-Star rating from Dubai's Knowledge and Human Development Authority in recognition of its world-class standard of education
2021 – Middlesex University Dubai opens a learning space in Dubai International Academic City, making the university the first UK higher education institution to have a campus in both Dubai Knowledge Park and DIAC
2021 – KHDA Open Data reveals Middlesex University Dubai is the largest KHDA-accredited university for total student enrolments in Dubai for the 2020-2021 academic year