In 2011, the Honorary Doctorate was awarded to: Mr. Tim Clark, President of Emirates Airline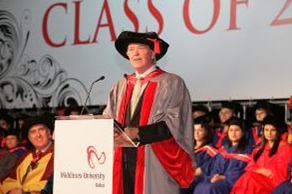 Emirates Airline President, Tim Clark was bestowed with an Honorary Doctorate award for his exceptional long term contribution to the development and growth of the aviation industry in the U.A.E, as well as internationally and his commitment to humanitarian and charitable causes.
Mr. Clark joined Emirates Airline in 1985 as the Head of Airline Planning and in 2003 took over as President. He has contributed greatly to the development of Emirates Airlines from a two aircraft operation, to it now being one of the world's largest and most profitable network carriers, operating more than 150 wide bodied jets to 102 cities worldwide (2010).
Mr. Clark helped found, and is Chairman of, the Emirates Airline Foundation which is committed to humanitarian and charitable causes and aims to improve the quality of life for children worldwide including access to food, medicine, housing and education.
The newly awarded Dr. Tim Clark gave an inspirational speech to graduates, encouraging them to "keep the passion", and to work hard.