In 2010, the Honorary Doctorate was awarded to: Mr. Misho Ravic, the founder of Middlesex University Dubai and Co-Chairman of Middlesex University Dubai's Board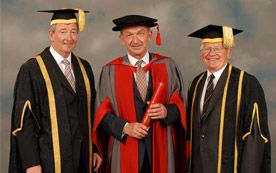 Middlesex University London has conferred an Honorary Doctorate on the founder of Middlesex University Dubai and Co-Chairman of Middlesex University Dubai's Board, Mr. Misho Ravic. Doctor of the University is the University's highest honour. The Honorary Doctorate was awarded during the graduation ceremony which took place in London on July 6, 2010 . Presiding over the ceremony was the Vice Chancellor Professor Michael Driscoll, in the presence of Deputy Vice Chancellor Terry Butland, dignitaries, faculty, graduates and parents.
In early 2004, Mr. Ravic embarked on a journey with Middlesex University to establish London's first and only campus in the United Arab Emirates. He chose Middlesex University, not only for the quality of its programmes and teaching, but also for the unique diversity of its student and staff population as well as its outstanding record. Mr. Ravic partnered with Middlesex University to establish a great success story in Dubai, and they both did, as evident in today's strength of the university.
Mr. Ravic's passion for education is renowned. He believes in quality and practices it. His extraordinary contributions to the field of higher education, health, and socially responsible business are seen across a number of countries and variety of critical contexts. He is the man behind many success stories.
On receiving his doctorate Mr. Ravic said "Middlesex University is unique in its pioneering vision and global outlook. It is an international university with roots in London. This inclusive vision has always set it apart from other universities and firmly established its position as a leading British university for the future. I found myself in an ideal situation to partner with Middlesex University and be a part of this innovative vision." "Thank you for extending me the great privilege of a Middlesex University Honorary Doctorate. I am deeply touched, and I accept this honour with a sense of immense pride and also humility", added Mr. Ravic.
Since 2004, the Middlesex University Dubai community has grown to more than 1,400 students enrolled in 28 undergraduate and postgraduate programmes, including Media, Psychology, Education, Business, Tourism, International development and Information Technology. This October, Middlesex University Dubai is introducing five new programmes, including the BA Honours Journalism and Communication Studies, BA Honours International Business, BA Honours Marketing, MSc Applied Psychology and MSc Computer Network Management.