A UK education for your family without going home
Mums in Dubai are busy – you're working, you're looking after your family, and you're enjoying the endless sunshine and amazing lifestyle we're lucky to have over here in Dubai!
But despite the exciting and often crazy rollercoaster of expat life, we can all agree on one thing: Dubai is the city of possibility and moving here has given us all an incredible opportunity for our families.
Let's seize this opportunity for ourselves too! Whether you want to reach that next level in your career, rethink your professional journey, or learn something entirely new, a UK degree with Middlesex University Dubai this September will get you to where you want to go.
If your child is also starting university this year, there's an amazing student experience waiting for them too! Applications for our September 2022 intake are open now.
Why study your UK degree in Dubai?
Our friendly Admissions Team is on hand at any time to help you choose the right programme
We offer over 70 programmes at Foundation, Undergraduate and Postgraduate level in a wide range of subjects
Our scholarships and grants are for all learners – so you benefit from a scholarship and so does your child
All Middlesex degrees come straight from London and are accredited in the UK and UAE. You don't have to leave Dubai to get an education from home!
Our Master's programmes can be studied full-time or part-time in the evenings to suit your schedule and life commitments.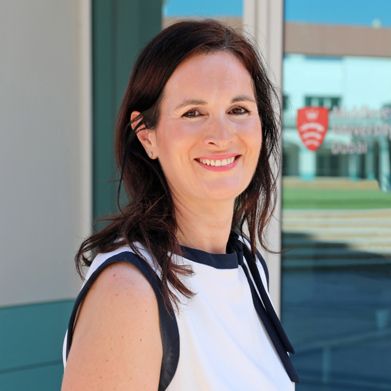 Are you ready to take that next step in your journey? Fill in the form on this page and our Admissions Team will be in touch with you very soon!
I hope to see you on campus this September! 
Claudia Maher
Lecturer in Business and Human Resources Management.
Our programmes
Undergraduate Programmes
BA Honours Accounting and Finance
BSc Honours Business Accounting
BA Honours Business Management
BA Honours Business Management (Finance)
BA Honours Business Management (Marketing)
BA Honours Business Management (Human Resources)
BA Honours Business Management (Innovation & Entrepreneurship)
BA Honours in Business Management (Project Management)
BA Honours Business Management (Supply Chain & Logistics)
BA Honours International Business
BSc Honours International Tourism Management
BSc Cyber Security & Digital Forensics 
BSc Honours Information Technology
BSc Honours Business Information Systems
BEng Honours Computer Systems Engineering
BEng Honours Electronic Engineering
BSc Honours Psychology with Human Resource Management
BSc Honours Psychology with Counselling Skills
BSc Honours Psychology with Marketing
BSc Honours Psychology with Education
BSc Honours Psychology with Criminology
BA Honours Early Childhood Studies
LLB Honours Law with International Relations
LLB Honours Law with Criminology
BA Honours Advertising, PR and Branding
BA Honours Digital Media and Communications
BA Honours Creative Writing and Journalism 
International Foundation Programme (5 Pathways)
International Foundation Programme (Business, Law and Politics, Psychology, Arts and Media, or Engineering and Computer Informatics)
Postgraduate Programmes
MA Human Resource Management and Development
MA International Business Management
MSc Marketing Communications & Brand Management
MSc Digital Marketing & Analytics
MBA (General, Operations & Supply Chain Management, Marketing, Islamic Economy, Innovation & Entrepreneurship, Business Excellence, Finance, Business Analytics, Sustainability & Corporate Responsibility, Project Management, Healthcare Management)
MSc Network Management and Cloud Computing
MSc Cyber Security and Pen Testing
MA Education (Technology Integration and Practice)
MA Education (Leadership Management)
MA Education (Teaching and Learning)
Postgraduate Certificate in Higher Education (PGCertHE)
LLM International Business Law
Our campuses
REQUEST A CALL BACK